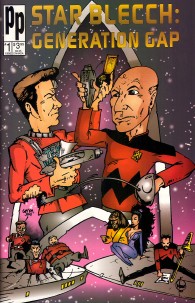 A dollar comic? Yes, please!
A Star Trek comic? Absolutely!
A Star Trek parody comic? Shut the front door! I'm all in!!!
Star Blecch: Generation Gap is a collection of stories that skewer every facet of the Star Trek from the original series to Deep Space Nine- and everything in between.
The title story, based on the Star Trek: Generations film that introduced Captains Kirk and Picard to each other, was the worst story. When I first started reading this, I wondered why it kept jumping all over the place. I finally realized that this story was set-up like a MAD Magazine parody in which it's more about roasting the conventional norms than trying to tell a cohesive story. Thankfully, that's not the case with the rest of the book.
My favorite story was the Deep Space Nine adventure. Maybe I was a little biased as DS9 is my favorite of the Trek shows. But it really was the cream of the crop.
Trek Teens, a yarn in which the crew of the Enterprise is portrayed as 50s high schoolers and Trek Babies which combines the original series with the classic 80s cartoon Muppet Babies, rounded out the top three.
The oddest thing about this issue is how it was packaged. You'd think that this was a collection of all new material. Well, it's not. Except for the Generations feature, the rest of the book is comprised of parodies reprinted from other Parody Press offerings. In the back is a reprinting of all the covers of the other PP Trek spoofs. Since I was pleased with a majority of this comic, I figured I would add those books to my wish list.
Well, my curiosity got the best of me and I'm glad it did. I went online prior to this review and discovered that most of the Trek material found in all of those books are comprised in this volume. Only the DS9 parody, Deep Space Diner seems to have more original Trek material within. (Thank you, mycomicshop.com for coming to the rescue and helping me save some cash on this!)
Worth Consuming.
Rating: 8 out of 10 stars.