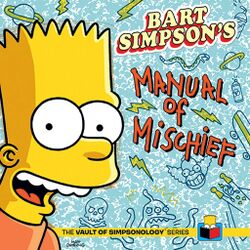 Ever wanted to be the biggest mischief maker on your block, but didn't know how to go about it? Well, your prayers have been answered with Bart Simpson's Manual of Mischief. Straight from Springfield's most notorious trouble maker under the age of 12, comes a guide to everything you need to become your class clown, your family's super-secret practical joker, and the spray paint scourge of your community.
Lessons in this manual include:
Making prank phone calls

operating in disguise

practical jokes for the school, home, and workplace

career choices for up-and-coming mischief makers and much, much more!
I've read several books in the Vault of Simpsonology series, like the Book of Moe, Comic Book Guy's Book of Pop Culture, and Bart Simpson's Guide to Life. But the Manual of Mischief is the first book I've read that had lots of activities for readers to engage in such as removable bad ass skateboard stickers, fake health food labels for your sugary soda of choice, and a collection of trading cards devoted to the art of sneakery. But, they are not all easy to do either. I gave up on the disguise kit activity after about 5 minutes of Homer-like frustration trying to get it to work right.
I only rarely stumble across these books at a used bookstore or in this case, Ollie's Discount Outlet. But when I find them, I snatch them up as they are the perfect rainy day read to boost your spirits. Since this book has things to cut out of it, I expect that this might be a harder book to find in perfect condition, unless you get lucky like I did or go to Amazon where prices as of right now start for copies that are used as low as $0.41!
A fun read in the classic Simpsons style that is worth a read, or two, or three. And believe me, I'm going to be trying some of these pranks one day! There's some comic gold in these pages waited to be exploited!
Rating: 9 out of 10 stars.